Skip to Main Content
It looks like you're using Internet Explorer 11 or older. This website works best with modern browsers such as the latest versions of Chrome, Firefox, Safari, and Edge. If you continue with this browser, you may see unexpected results.
CPA Canada and CPA Ontario
Financial Services Canada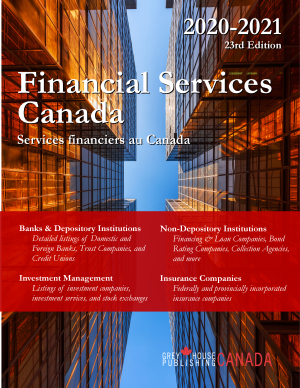 Financial Services Canada a directory of current contacts and information that serves the needs of the financial services industry in Canada. Listings include:
Banks and branches
Non-depository institutions
Stock exchanges and brokers
Investment management firms
Insurance companies
Major accounting and law firms
Government agencies
Financial associations
Sign into the CIRC database from the link below.
Search tip: Search by keyword, and limit your results to Financial Services Canada.
Canada's Information Resource Centre (CIRC)

(Grey House) Online access to 20 Grey House Reference titles: Canadian Almanac and Directory, Associations Canada, Financial Services Canada, Canadian Environmental Resource Guide, Canadian Parliamentary Guide, Governments Canada, Libraries Canada, Health Guide Canada, History of Canada, Canadian Who's Who, Major Canadian Cities, Careers & Employment Canada, Cannabis Canada, and various FP financial titles.